Alright I don't want to offend anyone by writing this, but there is a lot of tomato information floating around out there, and some of it is just NOT CORRECT. I feel bad for the people trying to grow beautiful, healthy tomatoes that are being fed bad information. All of your hard work and dedication is being stunted by the false information that you are trying to implement in your garden.
All that I can speak to are the methods and techniques that I have tried MYSELF over the years, and I would never claim something is false if I didn't properly test it out myself. The things that I am going to talk about are what have absolutely NOT worked for me in the past. In fact, they have done the opposite. They have hindered my tomato growth and production, and I feel obligated to share them with you.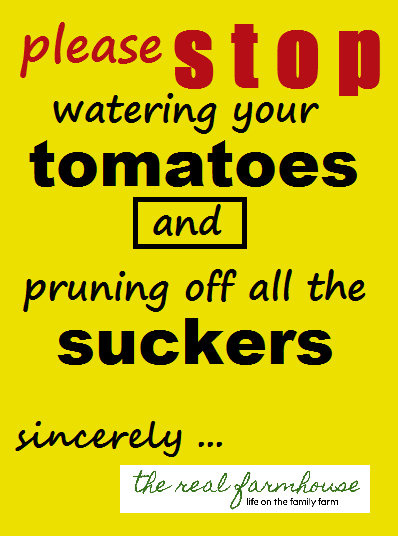 ---
False information #1. "Water your tomatoes often. When the leaves start to curl a little during the day, that means your not giving them enough water."
---
Oh my gosh, I can't even spit the words out fast enough to tell you that this is COMPLETELY OPPOSITE of what you should be doing!
Just like people, tomatoes need to be pushed and fully exerted to reach their full potential. If you took a person, and sat them down, and fed them healthy food, and treated them nice, and brought them water all the time, but never made them exercise or do anything hard, would they be very strong? No. They would be somewhat healthy from eating good food, and drinking water all the time, but they wouldn't grow big and strong physically. Tomatoes are the same way. They are a HUGE plant, and they NEED big strong roots to support their weight and production.
If you water them all the time, their roots don't have to work or stretch even a little bit to get to the water, because it's always right there at the top of the soil. They don't bother to grow down deep into the dirt to reach more nutrients because they never have to. And since their roots are shallow, the plant doesn't grow as big or as sturdy as it should be.
By watering your tomato plants often, you are actually stunting their growth and enabling the plant to be a huge wuss. There I said it! Your making your plants into wimps!
Now, for the second part … your tomatoes leaves curl up during the day as a defense mechanism to protect themselves from the sun. They are not curling because they are thirsty, they are curling because they are hot. It is an important thing to pay attention to though because it can be a sign that they are thirsty, if you are looking at the right time. The key is to inspect your tomatoes FIRST THING IN THE MORNING. If the leaves are curling at all before the sun has been up very long, then it means they are thirsty. It's not late enough in the day for them to be hot yet, so they are telling you that they could use a drink.
I only water my tomatoes every 5-8 days. I water them with a soaker hose for two hours because it is imperative that the water soaks very deep down into the soil. Let the soil on top dry out a bit, quit stressing out when the top isn't wet, and please please PLEASE quit watering your tomatoes every day.
*It should be noted that if your tomatoes are planted in a container, the watering requirements are different because the soil will dry out much quicker.
---
False information #2. "Remove all the suckers from your plant to get more tomatoes."
---
Before you start yelling at the computer that I am wrong, hear me out.
Removing the suckers (the shoot that grows in between two other branches)  from your plants is fine IF IT'S THE RIGHT KIND OF TOMATO. If it's the wrong kind of tomato, then you may be hurting your tomato crop. And I would guess that there are a lot of people that don't know which kinds of tomatoes are the right kinds.
If you are growing a determinate variety of tomatoes, you SHOULD NOT be breaking off the suckers. If you are growing an indeterminate variety then it depends on where you live and how much work you want to put in. And if determinate and indeterminate sound like a different language to you, please read this post that explains the difference. If I explain it here, this post will end up 3 times longer.
If you break off the suckers on a determinate tomato, you are stressing the plant unnecessarily. The plant will be smaller, and it will still produce all of it's tomatoes at once …. are you understanding this? Your plant will be smaller, so you get less tomatoes. Then your plant quits producing (because it's determinate), and dies, and you end up with a smaller, sadder harvest. Just leave it be, let your determinate plant grow how it wants, and it will happily give you as many tomatoes as it can.
Whether or not you should break off the suckers on an indeterminate tomato depends on where you live, and your own personal preference. If you live somewhere that has a longer growing season, I would say gardening zone 6 or higher, then breaking off the suckers is not all that helpful. You have a long enough season that you don't need to do anything to encourage your tomatoes to stop growing up and start producing. Why not just let them get as big as they can since they will have plenty of time to provide you will boxes and boxes of tomatoes. Personally, the only time I break anything off my indeterminate tomatoes is when we are getting close to the first frost and I want the plant to quit growing.
If you live somewhere that has a shorter growing season, it makes more sense to break off the suckers because it encourages your plant to stop putting energy into growing, and put more energy into ripening the tomatoes. Your plant will end up a little smaller, and your tomatoes will ripen a little earlier. It can improve circulation, which might help prevent disease. It also has the potential to make your plant produce slightly larger tomatoes, but you won't have as many. Give a little, take a little. So if that is what you want, then keep on plucking those little suckers off your indeterminate plants, and accept my apology for declaring your method as "incorrect", I only meant to inform. I am certain no one meant to deceive anyone by telling them to break off the suckers, I just want everyone to know which kind of plants they were talking about. Indeterminate NOT determinate.
Phew! Now that I got that off my chest, I feel much better. I just want to make sure you guys are well informed so that you can grow the best tomatoes ever!
Speaking of best tomatoes ever …. If you are serious about your tomatoes, you need to know this. Tomatofest.com has the largest and most impressive selection of organic and heirloom tomatoes I have ever seen. They have over 600 beautiful, unique, and rare varieties of all different colors, sizes, shapes, and flavors. In fact, this year I am trying out a blue tomato for the first time. Yes, blue! You can't believe some of the stuff they have until you see it with your own eyes. CLICK HERE to visit this incredible organic and heirloom tomato seed supplier that is run by a couple who harvest their own seeds. If you aren't buying your seeds through these guys, you are truly missing out on some great tomatoes.
Make sure to sign up for my FREE 8 day Tomato Academy. I teach all you tomato freaks how to choose, grow, and sell "high end" tomatoes for big money. Some of mine sell for $3 each! CLICK HERE to check it out.
Then check out my DIY BEEFY tomato cage tutorial, so your plants aren't laying in the dirt.
Has anyone else found tomato advice out there that needs to be corrected? or at least clarified?
~Farmer's Wife