The first year I grew my own garden, I planted three tomato plants and they were all Roma's. I took care of them, and I loved them, and I spent money on shiny new tomato cages for them from the home improvement store. They were so happy! They grew and grew and started to put on little green tomatoes. And then they grew and grew some more, like tomatoes do. Several weeks before the end of the season, my tomato plants, which were now heavy with fruit, started to flop over on the ground. They began to BEND the tomato cages that I had so lovingly purchased for them, and then lay their pretty leaves down in the dirt.  I lost a lot of tomatoes that year, all because of some flimsy store bought tomato cages.
Then silly me, I tried them again the next year. The year after that, I didn't know WHAT to do, so I tried tying my tomatoes to a stake. Nope that didn't work either.
I decided it had to stop. I couldn't lose another tomato to improper caging! And so, Farmer and I hatched a plan. We needed something taller, stronger, and sturdier to hold up our tomatoes.  By this point, I knew I needed something that could support the 8 foot tall INDETERMINATE ONES, not just our little romas.
And here is what we came up with.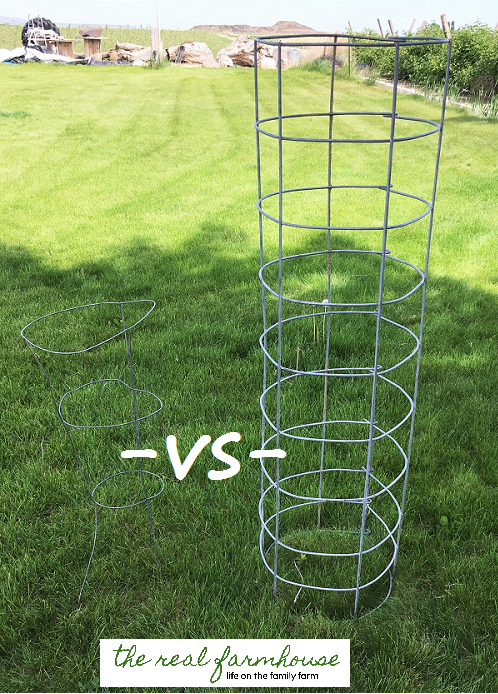 Believe it or not, Farmer and I thought of this one BEFORE I discovered pinterest! So, although I am sure other people have done the same thing, I have no one to give the credit to but my genius hubby, the Farmer.
Since that first year, I have never, and I mean NEVER, felt like I lost tomatoes to improper caging. With these cages, the only tomatoes that can reach the ground are the ones on the very bottom branches. Everything is held up wonderfully, and I can actually SEE the tomatoes. They aren't bulky, in fact, once the plants get big enough you can hardly see the cages.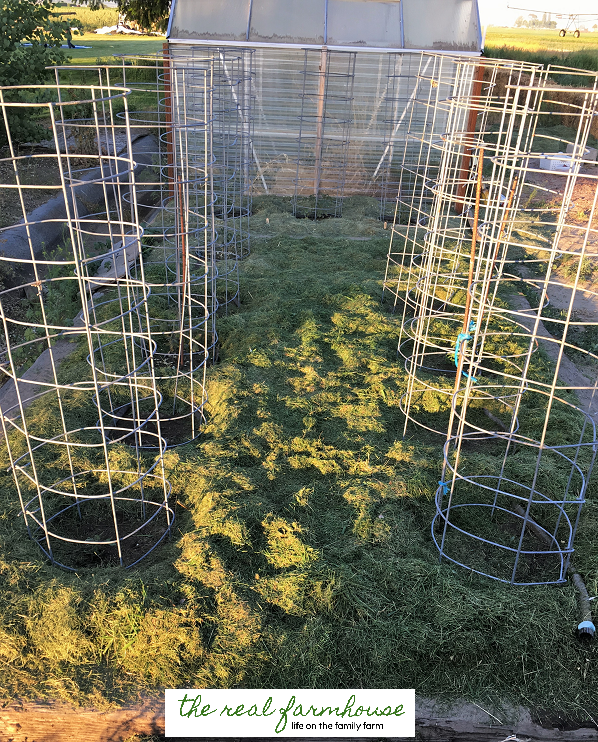 Now I am not actually sure what one of the tomato cages from the store costs nowadays, but I do know they have lots of different sizes and styles. I can't imagine finding one as sturdy as this one ….. but even if you did, I know it didn't cost $6. One single cattle panel that cost us $23, cuts up into four tomato cages. Not too bad for something that's gonna last forever if you ask me.
One more thing …. Although it's Farmer putting it together in this video, I have made some of them myself. It may look like you have to be super strong to muscle these things together, but you don't! With a little elbow grease and maybe a few hard rock songs to get you pumped up, you can do it too!
All you need is:
One 50 inch by 16 feet cattle panel
bolt cutters
crescent wrench
Enjoy the video!
Couple tips to remember:
Take your bolt cutters to the store with you. Cut the cattle panel while you are there so you can actually fit it in your vehicle.
If you live in a windy area, like we do, pound a stake or bean pole into the ground on the windy side of your tomato cage. Use twine or rope to tie the cage to the bean pole so when you get huge wind storms they don't act like a giant sail and topple over.
Loop your drip/soaker hose through your cage so the water gets right to the roots.
If you missed my post 3 THINGS YOU NEED TO KNOW ABOUT GROWING TOMATOES THAT NOBODY EVER TELLS YOU  make sure to read that and keep scrolling to see all the comments. There are a lot of great suggestions and ideas from all you guys!
Now one last thing… If you are serious about your tomatoes, you need to know this. Tomatofest.com has the largest and most impressive selection of organic and heirloom tomatoes I have ever seen. They have over 600 beautiful, unique, and rare varieties of all different colors, sizes, shapes, and flavors. In fact, this year I am trying out a blue tomato for the first time. Yes, blue! You can't believe some of the stuff they have until you see it with your own eyes. CLICK HERE to visit this incredible organic and heirloom tomato seed supplier that is run by a couple who harvest their own seeds. If you aren't buying your seeds through these guys, you are truly missing out on some great tomatoes.
~Farmer's Wife