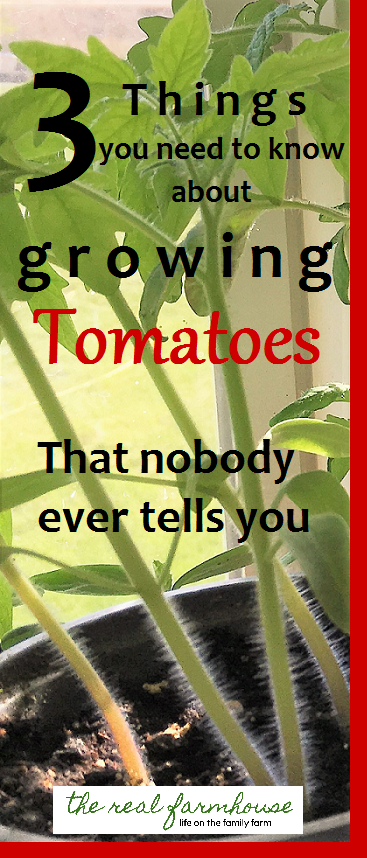 Tomatoes might just be my favorite thing to grow in the garden. I think that's because the plant gets way bigger then most of the other things I plant. So when I'm gazing out my window and I see a miniature forest of tomato plants, I think "Hey! Maybe I am doing something right!" The other thing I love about tomatoes is the CRAZY amount of different kinds there are to choose from. There are purple ones, yellow ones, big ones, tiny ones, even lumpy ones, and spotted ones. Seriously the only other plant I can think of that has that many different awesome and weird options is a gourd, and they don't taste quite as good as a tomato. But here's the deal with tomatoes ….
They are pretty easy to grow, but there are some secrets you must know to grow them WELL.
Now I only say "secrets" because even after gardening with my dad growing up, studying permaculture for two months in Hawaii, and reading everything I could get my hands on about plants, there are still a few things about tomatoes that I ALMOST NEVER hear. And they make such a huge difference, that I want to make them not secrets anymore!
So here are the 3 things you NEED to know about growing tomatoes that nobody ever tells you.
Determinate vs. Indeterminate
There are 2 different kinds of tomato plants. Determinate just means that the plant has a pre-determined size. So your tomato plant will grow, and once it gets to that certain size it will stop getting bigger and will put all of it's energy into producing beautiful tomatoes. These plants usually grow 3-5 feet tall and then produce all of their fruit in a relatively short amount of time. This is good if you have less space or a shorter growing season because you can get the most out of your plants before the frost comes.
[wp_ad_camp_5]
So now can you guess what indeterminate means?? Yep, it means the plant DOESN'T have a pre-determined size. Your plant will continue to grow taller and taller until it freezes in the fall. It will produce fruit continually (but slower then determinate varieties) as the plant grows. Last year, my plants grew over 8 feet tall. See why they make me feel like I am doing something right? But it's not me, it's the type of tomato plant I grew. Indeterminate plants are nice if you have plenty of space to grow HUGE plants, and a longer growing season. If you have a short season, it will freeze before you have had a chance to harvest most of your tomatoes.
So how do you know if you are planting a determinate or an indeterminate? USUALLY the seed packet will say on it. However, I have been frustrated that many seed packets don't say, and if you buy plant starts they almost never say. So the annoying truth is that you have to look up online the specific type of tomato you have chosen. Most of your beefsteak or big boy types are indeterminate, and most romas and cherry tomato types are determinate. But that's not a constant so you need to check when you plant yours!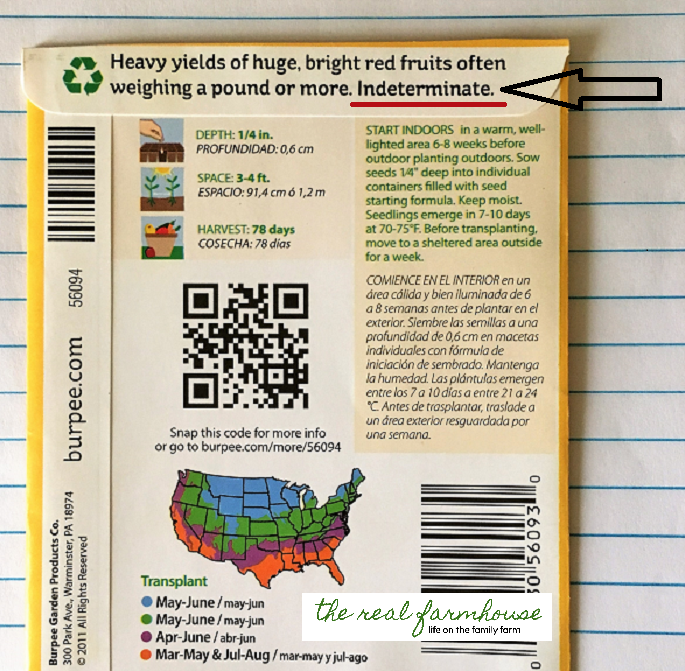 2. Those tiny cages they sell at the store ….. won't work people!
I would like to meet the person who designed the tiny, three ring, tomato cages and ask them what type of tomato they were growing because I have NEVER seen a full grown tomato plant, not even a determinate one, that would be properly held up by one of those. So, unless your going to a serious gardening store, and buying the bigger, sturdier, and spendier ones, your not helping your tomato plants out AT ALL by putting one of those around them. Let me show you what I mean ….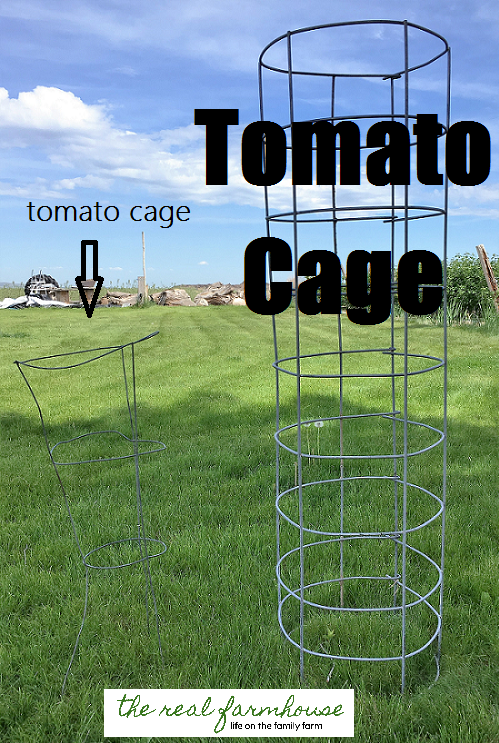 On the left is your basic store bought tomato cage, and on the right is my homemade tomato cage. And my big tomato cages STILL aren't tall enough to keep the plants from flopping over towards the end of the season. You need, and I mean absolutely need, bigger tomato cages. If your tomatoes are sitting on the ground, you will be hard pressed to find one that's not damaged in some way. If your plants are not propped up, you can't even FIND the tomatoes, let alone eat them. And if your huge plants are just laying on the ground you will end up with smaller, broken plants, that are covered in dirt, and not very happy at all.
Check out my DIY BEEFY tomato cage video tutorial here.
3. A tomato plant's preferred watering schedule and method is different than most other garden plants.
Tomato plants HATE getting sprayed. They will pout if you water them from overhead. I use THIS SOAKER HOSE throughout most of my garden, but my tomatoes benefit more from it then any other plant. There are plenty of other options like hand watering with a hose, or using those cool clay pots that you fill with water, but whatever you decide to do, make sure it's at the roots!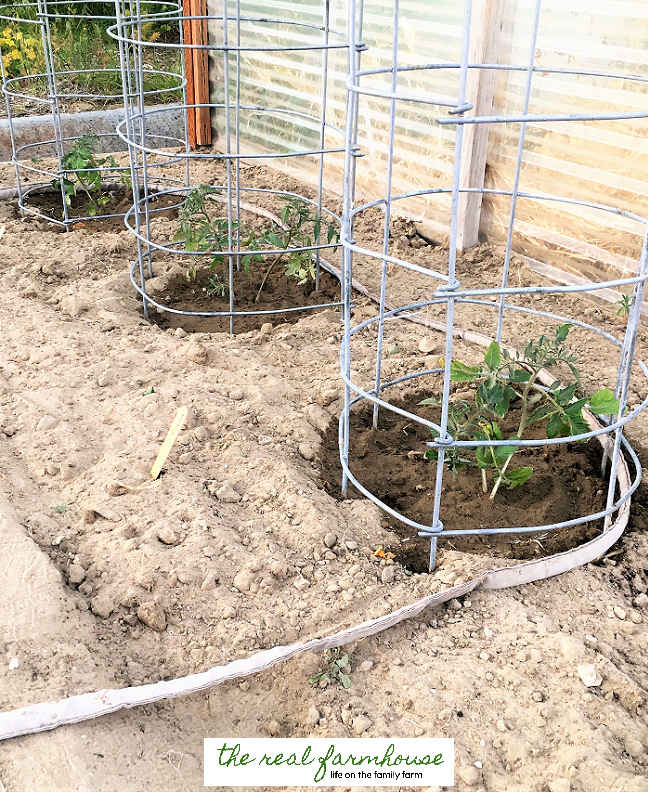 A few years ago a friend and I planted the same kind of tomatoes, from seed, at roughly the same time. Three months later, my plants were HUGE and producing tomatoes, while hers were about two feet tall and looking very sad. Wanna know the difference? She watered hers under a sprinkling system every night for 15 minutes, and I watered mine with a soaker hose once a week for about an hour. Tomatoes NEED deep watering about once a week, never shallow watering even if it's often.
Phew! There you have it! 3 things you needed to know to be able to grow KILLER tomatoes.
Now one last thing… If you are serious about your tomatoes, you need to know this. Tomatofest.com has the largest and most impressive selection of organic and heirloom tomatoes I have ever seen. They have over 600 beautiful, unique, and rare varieties of all different colors, sizes, shapes, and flavors. In fact, this year I am trying out a blue tomato for the first time. Yes, blue! You can't believe some of the stuff they have until you see it with your own eyes. CLICK HERE to visit this incredible organic and heirloom tomato seed supplier that is run by a couple who harvest their own seeds. If you aren't buying your seeds through these guys, you are truly missing out on some great tomatoes.
If you liked this post then you will LOVE my free 8 day email-course The Tomato Freaks Guide to choosing, growing, and selling "high end" tomatoes.
Or check out How to guarantee you'll have the first ripe tomatoes on the block! There is even more killer tomato advice for ya.
Anyone else have any "secrets" that no one tells you about tomatoes?? I am constantly on the lookout for more info!
~Farmer's Wife
*this post contains affiliate links