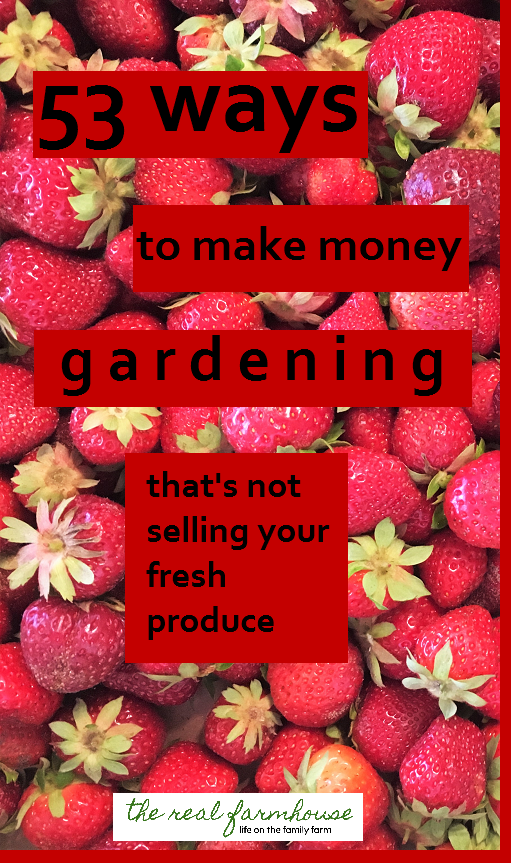 I am always on the lookout for ways to save and make money. I think it's awesome to find ways to make money with things you are already doing. You wouldn't believe what some people get paid to do honestly! I have read about people getting paid to go shopping, getting paid to sit on pinterest all day, getting paid to clean their own house ….. get the point? You can probably get paid to breath if you know where to look! Anyone know where to look???? I would like to get paid to breath!
I grow things. It's what I do. It's what I have always done. So over the years, I have discovered some pretty great ways to make money doing something I would be doing anyways! I haven't tried every single one of these ideas, but I sure have done a lot of them!
So read on for an enormous list of ideas on how to make money gardening….
ONLINE OPPORTUNITIES:
Start a gardening blog ($0-hundreds of thousands)
You have your own secrets, why not write them down? If you would like to read my blog post about How to start a gardening blog and make money doing it CLICK HERE.
Take garden pictures and sell them to photo websites ($0-hundreds, depending on how good your pictures are)
You would want to invest in a nice camera or at least a clip on for your phone.
Guest write for garden blogs/websites ($0-$500)
There are actually a TON of blogs out there that pay you to guest write. Run a search or email your favorite blog about it, it never hurts to ask.
I am not one of those blogs in case you were wondering, sorry. I write all of my own stuff. But it does help to have a decent sales pitch/resume of sorts ready before you call or email anyone.
Garden product reviews ($0-free product + some compensation)
There are product reviews companies or you can go directly to a company that you love and ask them about it. If your already using a product, like a garden hose for example, it would be nice to get paid to use it. And if your not already using a product, then this is a great way to get free things or cool new things that you would have never known existed (like this or this). All you have to do is accept free stuff and then write whether you like it or not.
Seed reviews/testing (free seeds-$100)
Companies are always developing new varieties and kinds of seeds. They have to pay someone to try out the seeds and report on the results. And why shouldn't that be you?!?!
Garden consulting ($0-$thousands)
There are online companies that will hire you to be a consultant for them. They don't pay as much but you don't have to worry about finding your own clients. Or you can start your own online garden consulting business and charge whatever you want, but then you have to find your own clients. I heard of a guy who charges $50 for a ten minute phone conversation or $800 for email access to him for one month. Why not get paid to know what you know right?
Garden designing ($0-$thousands)
If you know your plants well and are good at laying them out in a pleasing and efficient way, then you would make a great garden designer. Again, you can join a company that already has clients, or you can start your own website, go hunting for you own, and make more money.
Sell your own garden fresh recipes ($0-$50)
This is just like guest posting on garden blogs or websites except it's sending your recipes to food blogs. Many of them out there pay for recipes if they are good and you have good pictures. Yours are special because they are straight from the garden!
Sell a gardening e-book ($0-$500 each book sold)
Okay this one can be easy but it can also be impossible. Anyone can write an e-book about gardening and sell it on amazon for a few bucks. If you sell a bunch that's great! But in order to get paid hundreds for each book sold you usually have to have a name for yourself. If you have a blog or website or a following in any other way, the people who know and respect you will pay big bucks if your information is worth it. This one is nice though because you create your e-book one time and then continue to get paid for it forever with no additional work needed aside from getting it to sell.
[wp_ad_camp_2]
FOR RENT:
Garden Weddings ($0-thousands)
Garden wedding are very popular, but your garden must be immaculate. No one wants a weed in their bridal photos.
Office parties ($0-hundreds)
Companies throw office parties and office retreats on a regular basis now. Rent out your garden for a nice lunch or a day trip. They often like to go somewhere outside because they spend so much time on a computer.
Garden parties ($0-hundreds)
Garden parties are growing in popularity right now. Giving people a way to connect with nature is something they want. Rent out your beautiful garden for a garden party any time of the day. Letting them pick the produce straight out of the garden is a good way to stand out.
A garden is the perfect place to have a yoga class. Rent yours out first thing in the morning when the sun is coming up. You could even provide them with the yoga supplies if you want.
Other workout classes ($0-$100)
This is separate from yoga on my list because other workout classes usually need more space. Yoga is in one spot while most everything else requires you to have enough room for people to move around. But even a Zumba class or personal training would do well in a garden.
Healthy Foodie Parties ($0-hundreds)
Set up a nice outdoor table and a shady area and your all set. You could even offer the utinsels and tableware necessary for a food party. Again, letting them pick straight out of your garden is a big selling point.
Plenty of people don't have the space for a decent sized garden where they live. make your garden like a community garden by separating out plots and renting them out to people. You could offer different packages like renting the land, renting the land and all tools and supplies, or even renting everything you need and you taking care of the watering and weeding. What about those people who can only garden one day a week? They will pay for an option where they come every once in awhile and you take care of it the rest of the time.
Animal grazing ($0-$hundreds)
If your garden is large and has a fence, you could rent it out for animal grazing at the end of the season. Leave all of your garden plants right where they are and let the animals come eat them. The bonus for you is that your garden gets fertilized! Warning though, do not do this is you have a beautifully kept garden with raised beds and decorations. This works great if your garden is simply dirt with no added features that can be ruined.
rent your space as a beautiful garden place to take professional pictures, graduation pictures, family pictures, etc. You could even find a photographer friend and partner up for a picture package.
[wp_ad_camp_4]
SELLING OPPORTUNITIES:
Sell cut flowers ($0 -$10 each)
I think it would surprise you how much people can make selling flowers. The best part is, you can grow A TON of flowers in not a ton of space. This one takes a lot of planning be warned.
Before you start laughing, this is for real. It's like candles, people go crazy about the smells. You can dry and make your own concoctions and then put them in bags, pillows, ear muffs, seriously anything.
Canned/bottled goods ($0-$35 each)
The guy down the street from me sells his pickled asparagus for $32 per quart jar. Holy crap! But oh is it good. Just be careful about the laws where your at, you have to do certain things to be able to sell home cooked food.
Your own garden pictures ($0-$hundreds)
This all depends on how good you are at taking pictures. You can blow them up huge or keep them small. You also have to grow a garden that looks nice enough to take pictures of.
Garden/landscape designs ($0-$hundreds)
Depending on how involved you get. If your just drawing designs and selling them it won't make much money, but you get paid well to do gardening and landscaping designs for a specific person and situation.
Sell plants ($0-$100 each)
Plant starts, baby trees, perennial cuttings, etc all sell really well. Put a sign out front and your in business!
Sell your own seeds ($0-$10)
This does especially well if you start saving heirloom and organic seeds. And the real kicker is if you create your own varieties! People want rare, unique, weird, or anything else of that sort.
Seed experience packages ($0-$100)
Might sound confusing, but it isn't. People like experience packages these days where they can buy an experience or adventure instead of needing to piece together something on their own. For example, my daughter was gifted a "fairy garden seed starting kit". It was adorable. It came in a nice pink box and it had seeds, dirt, peet pots, and little fairy accessories. Consider selling a salsa garden with seeds and things needed to create salsa, or a spaghetti garden …. you get the idea right?
Sell homemade compost ($0-$100)
They call it black gold for a reason. It's in high demand and people will pay good money for organic compost.
Homemade potting soil ($0-$50)
Another thing many gardeners make for themselves is potting soil. The key words here are organic, natural, homemade, etc.
Garden décor/signs ($0-$50)
What things have you made for your garden that are easily replicable or cheap to make?
Garden DIY projects ($0-hundreds)
Do you know how to make anything useful for the garden? Potting benches, drip systems, trellis', etc.
Dried Herb mixes ($0-$20)
Something a lot of people love is homemade herb concoctions. Dry your garden herbs, play around with different combinations, and when you find something delicious make a whole bunch of it. Name it something memorable and you have just created a seasoning that everyone will be talking about.
Tea mixes/healing mixes ($0-$50)
All natural, organic, healing, and other words like that are dynamite for sales. Make your own mixes and attach something that tells the customer exactly how to use it, and your all set.
Do you make fruit leather, dried apple crisps, fruit snacks, or anything else with your dryer? Parents especially, will be excited to purchase all natural and healthy kid snacks from you.
[wp_ad_camp_5]
THROW YOUR OWN PARTIES
Garden Dinners ($0-thousands)
Do you love to throw parties? Depending on how nice your garden is and how much effort you want to put into it, garden dinners can be very successful. You can do a small intimate dinner, where you set up the eating area in the garden and serve a nice meal. Or you can go big and have waiters, lighting, music, the whole sha-bang! I have seen successful garden dinner parties bring in hundreds of people and make thousands of dollars.
Garden Fair ($0-thousands)
This one is a really big thing. There is one down the street from me that does incredibly well. Once a year they throw a garden fair where they sell plants, seeds, and produce from their garden. They also offer activity booths, face painting, garden workshops, food, candy, a petting zoo, and a whole bunch of other awesome country things. This would take a lot of planning but once you get the hang of it, would bring in a lot of money all at once.
[wp_ad_camp_3]
OTHER OPPORTUNITIES
Offer Garden tours ($0-$100)
You can do this one a number of different ways. You can open it up for school field trips. You can offer garden tours with information to local people and families. You can also do it at specific times to large groups of out of towners. You have to find a good way to advertise it but lots of people are interested in how things are grown and love to hear the information and see it in action.
Garden classes ($0-$hundreds)
We live in the information age. People will pay for information if it is something they want or need. Offer classes on any gardening subject (seed starting, how to plant pots, preserving, water system set up …. anything you know how to do, someone out there wants to know how to do too. Put an add in the paper or online somewhere and watch the numbers pour in.
Composting classes ($0-hundreds)
This particular subject is very valuable for lots of people because of the rising cost of fertilizers. It's also a health factor because people are more and more nervous all the time about buying stuff with anything artificial added to it. Teach them how to make their own organic and all natural fertilizer by composting!
Teach kids how to garden ($0-$100)
Parents are willing to pay a lot of money to have their kids learning something. Think about how much you fork over each month for music lessons or sports. Offer kids gardening classes for the summer. Teach them all the basics and send them home with produce and fun garden crafts. The parents and kids both will love it! Just make sure not to open it up to too many kids. It's easy to get overwhelmed when your trying to reign in a bunch of 6 year olds, and it can turn into babysitting if your not careful.
Teach people in the area how to can. It surprises me how many people tell me they are "scared" to try it because of the horror stories they have heard about pressure canners exploding.
Dried foods classes ($0-$50)
Another one that SO MANY people don't know how to do but want to.
Garden fresh/healthy cooking classes ($0-$100)
I have a friend that does this one. She simply cooks in front of a group of people and talks about it while she goes. Then at the end, they all get to taste it. She has people begging her to travel around and do her healthy garden cooking shows for a number of different events.
Write a local garden newspaper ($0-$20)
So many things about gardening are on a local level. What zone your in, how the weather is, what kind of soil you have, etc. Provide specific information to the people around you about your area in newspaper form. Offer to mail or deliver it once a month.
You pick garden ($0-hundreds)
Set up your garden in a way that people can get in and out easily without hurting things. Stick a sign on the road for people to come pick their own and word will spread. You do have to be home all the time though or some way to help the people that show up while your are gone.
Do you have a specific DIY garden project everyone loves? Hold a workshop where you provide all the supplies and tools, teach them how to make it, and send them home with their new treasure.
Offer your garden space as a relaxing therapy destination. Offer a place to dig in the dirt, plant things, weed, do yoga, and other zen things. Yes, this is for real. Nature therapy is growing in popularity right now.
Community garden ($0-$100)
Use your garden space as a community garden rental. Have people sign up for times when they will do the garden work. Your just the landlord basically!
Seed saving classes ($0-$50)
This is an important skill that very few people actually know how to do. Offer it as a class and send them home with baggies of seeds.
Be a Garden Consultant ($0-$thousands)
Start a little business where people can come to you for all their gardening concerns.
Be a traveling gardener ($0-hundreds)
Sometimes people don't want to come to you so why don't you just go to them? Travel around and plant other peoples small gardens. You can offer different packages and options for how much work they want you to do. Sometimes they just want their own little garden outside their own kitchen!
Be a garden designer ($0-thousands)
Go to people's houses and give them specific designs and information that is for them and their own garden.
Fertilizer testing ($0-$thousands)
My parents have a friend who does this for his living. He is the miracle-grow guy, seriously! They pay him to grow tomatoes using exactly how much fertilizer they want him to. His job is to grow the tomatoes and keep them looking so nice that miracle-grow can come take pictures and use his examples for their marketing. He even gets to keep all of his tomatoes! Man what a sweet gig.
Pest control testing ($0-thousands)
Same thing as fertilizer testing except it's with pest control. It's a little more involved because the company would need to know more specifics like when the bugs got better/worse, how many bugs you had to begin with, and everything else you noticed.
You better be able to find at least one idea in there that you liked! Now get to work and make some money!
Not sure where to go next? Leave me a comment letting me know how you make money with your garden, then check out how we SAVE $2400 with ours.
Yay for saving and making more money!
~Farmer's Wife