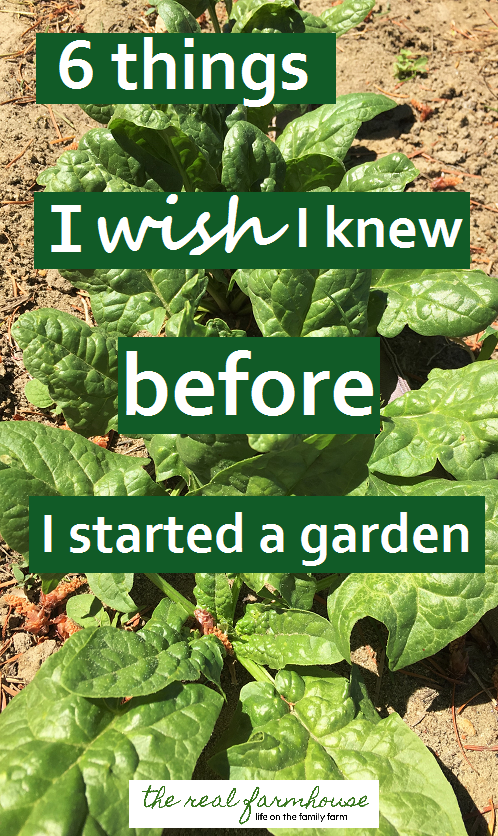 Ever wish you could do things over again? Of course you do, you're human. Doesn't everyone wish that from time to time?
I love my garden, but every once in awhile, I wish I could start all over and implement the things I know now.
Lucky for me, we are building a new home, so I DO get to start over. I get a clean slate, just a brush patch full of virgin soil and 6 foot tall weeds to work with. I am so excited!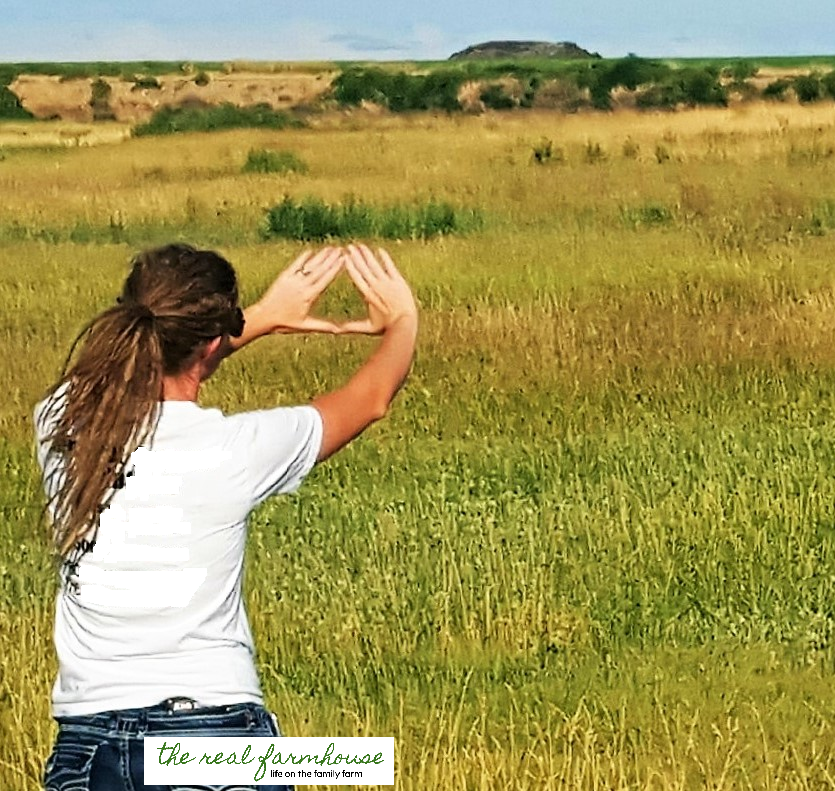 So, as I have been thinking about what I will do with my brand new garden, I came up with a little list of things I wish I knew before I started the garden I have now.
You can start a garden for free. You do not need to spend a whole bunch of money to have a beautiful garden. Some of the gardens I think are the prettiest, are just rows and rows of plants. There aren't a bunch of garden decorations and archways. It's just beautiful plants loaded with fruits and vegetables.
I also believe that you can find ways to add those beautiful, but usually expensive, additions to your garden too. When we take the time to look, we have found so many useful things for free, from railroad ties, to tarp, to left over gravel. Check out this cucumber trellis we built for free from materials destined for the dump.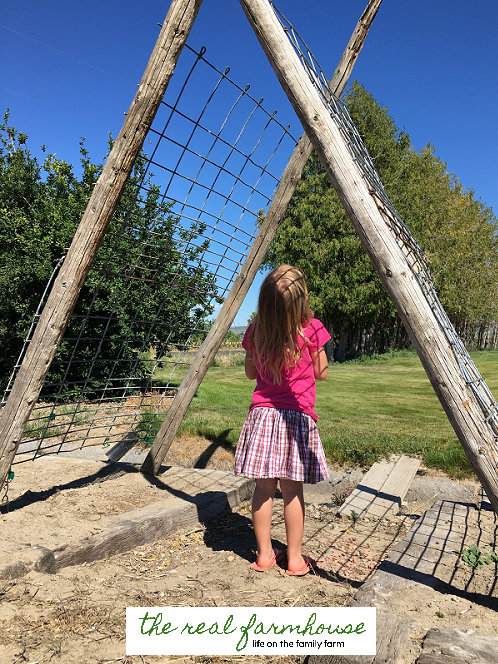 When we don't take the time to look, we always end up spending more money than we planned.
You can even find free plants if you are willing to look. You can get starts from friends, you can go to the nurseries at the end of the season, you can find wild things that grow in your area and transplant them. At the very least, you can start everything from seed and it will cost you like ten bucks.
When I design my new garden, I am going to keep it super simple this time. And I am going to do my best to find everything I can for free.
2. How to lay it out so it works for me.  In my current garden, I have a big long row of grow boxes that are all various sizes. I actually do like the way it looks, all long and skinny, like it goes on forever and ever. But I have learned some difficult lessons that I can't fix without tearing things out.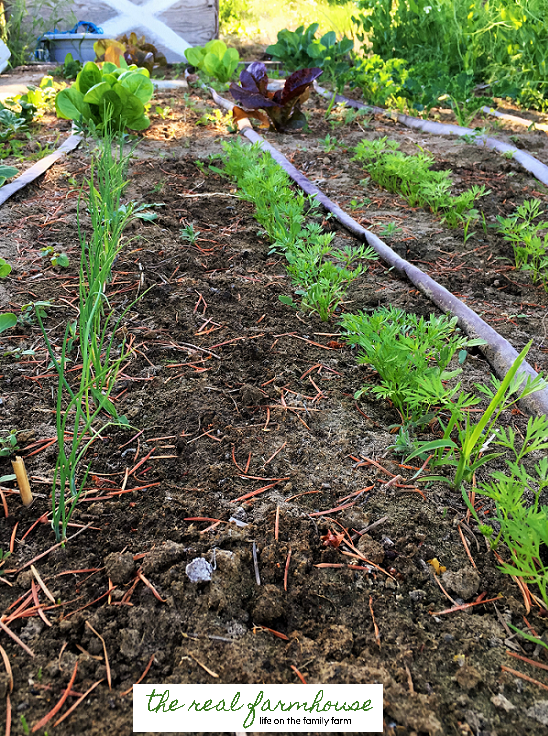 Large square grow boxes are silly because you now have to put pathways through them in order to pick the veggies in the middle. I would much rather have a long skinny grow box that I can reach in from all sides and not have to step on my churned soil.
I didn't need nearly as many pathways as I put in. I could have done one or two super long grow boxes instead of 8 smaller ones with pathways in between. I wasted a lot of precious garden space by adding pathways where I didn't need them.
Water has been a very tricky thing with my long and skinny garden because I am constantly dragging the hose back and forth. In the future, I will take the time to bury pipes so that I have more places to access water. It will save a lot of time and work.
Also my compost pile is across the lawn. What was I thinking? When I find a zucchini that successfully hid from me until it was the size of a baseball bat, I have to drag that heavy baseball bat across the lawn to toss it in the compost. If I am being totally honest here, that almost never happens. Instead of walking it across the lawn, I usually toss it off to the side and it sits in the middle of my pathway. Not a good system.
[wp_ad_camp_4]
3. Plant extra. My goodness it has taken me a long time to finally plant enough.  For years, I told myself I would take care of the gophers, and I would make sure my kids don't pull any of the plants up, and I would be diligent with the weeds and pests. Every single year, I would plant what I thought we needed. And every year, several of my plants would get wiped out by one of the reasons above. I would stress and worry about it because I couldn't handle losing food that we needed, to a stupid gopher that wreaked havoc on an entire grow box in one morning.
If I could just remember that planting way more than you need will take the stress away of losing some plants, I would have saved myself a lot of prematurely gray hairs.
4. Which plants produce enough food to make them worth growing. I actually sat down and did the math on that one this spring. It blew me away what some plants were worth. A tomato, for example, can produce $50-$150 worth of fruit. It takes up a lot of space but that's a lot of money coming out of a ten cent seed!
On the other end, romaine lettuce only produces about $2 worth of salad for each plant. It might not even be worth it to grow when you can drive down to the store and get one for the same price.
If I had known what each plants saves me from the beginning, I would have filled my garden with different plants. Now I know better.
If you would like to see the complete list of how much money each plant saves me in my garden, just subscribe to The Real Farmhouse and you will have it waiting in your inbox.
5. There are things you can do to make it way easier on yourself. I love to garden, but that doesn't mean that I have the time or the desire to spend 5 hours a day in the garden. Over the years I have discovered some huge time savers. Before I implemented these, I was spending way to much time trying to get things to grow because I didn't know how to make it easier on myself. Here are a few of the big ones.
Mulch– it reduced my weeding time by 75% or more. When I mulch properly, I only weed my garden boxes 2 or 3 times a year. If you would like to read more about how I do that, CLICK HERE.
Use a drip system or soaker hoses. A sprinkler does quite a bit of damage to your garden and plants. Lots of plants hate getting sprayed, especially tomatoes, and they will not grow well. Sprinklers splash mud all over the leaves and produce, creating more work for you. Also, they encourage weeds to grow in a huge circle around your garden, creating way more weeding for you. A soaker hose gives water only where you put it, it doesn't splash anything, and it's not spraying any leaves.
Invest in the right equipment. There are a few small things you can buy that will make a big difference. Good, sturdy tools are one of them. I have a nice shovel that has lasted many many years. I also have a cheap shovel that lasted two years before the handle got weak and broke off. Buy nice tools A good pair of gloves makes weeding large or pokey weeds much more enjoyable, and you will get it done quicker with no blisters on your hands.  I bought dollar store gloves every year for five years. Then I bought THESE GLOVES and they have lasted two seasons already, and they have no holes!
Something to transport garden material. This depends on the size of your garden. If you have a small garden, a bucket might be enough to move dirt, rocks, and weeds. If you have a larger garden, I suggest getting a cart on wheels LIKE THIS ONE because wheelbarrows really do a number on your back after awhile. This "gorilla cart" dumps too so you don't have to hoist anything up when it's full of 50 lbs of dirt. And $60 is a small price to pay for a pain-free back. For a really big garden like mine (3000 square feet) you will use and love a trailer of some sort. We bought THIS ONE that hooks up to the back of our four wheeler about three years ago. It's small but sturdy. I use it for everything. We move dirt, compost, weeds, rocks, straw bales, etc. I even use it to take the kids down to grandmas house in. It has been well worth the money and has saved me a ton of time and effort. *affiliate links included
6. And finally, quit making it such a big deal! That was to me by the way. I wish I knew from the start that gardening doesn't have to be all or nothing. But then I guess that's more of a personality flaw than anything. I struggle with doing things a little at a time. Once I decide to do something, I usually blow it way out of proportion and devote every waking hour to it for a little while and then get burnt out.
"Moderation in all things" applies to gardening too. I don't have to plant 3000 square feet EVERY year. I don't have to try ten new plants EVERY year. I don't have to sell produce EVERY year. I need to be more realistic with what I can do sometimes, and quit stressing out when I can't have a huge, beautiful, weed free garden, that makes money every dang year!
It's okay to just have one tomato plant, and it's okay to have an off year. It would have saved me a lot of stress if I had got that through my head early on. I am still very much working on this one, and I assume that it will be something I have to work on for many years. Baby steps right?
[wp_ad_camp_2]
Now, I am sure that not everyone will have the same problems as I do, but if by some chance you do, then I hope this post was very helpful. Sometimes it helps me just to write these things down so I really take the time to think about them.
I am so excited for my new garden, that I am planning it a year in advance. I already have a sketch of what I think I want, and I am paying attention to things I want to do differently.
Is anyone else starting from scratch? Maybe you are moving too, or maybe you are preparing to start your first garden. I would love to hear about it. What do you wish you had known before you started a garden? What are your plans for your first garden?
Good Luck on your adventure!
~Farmer's Wife