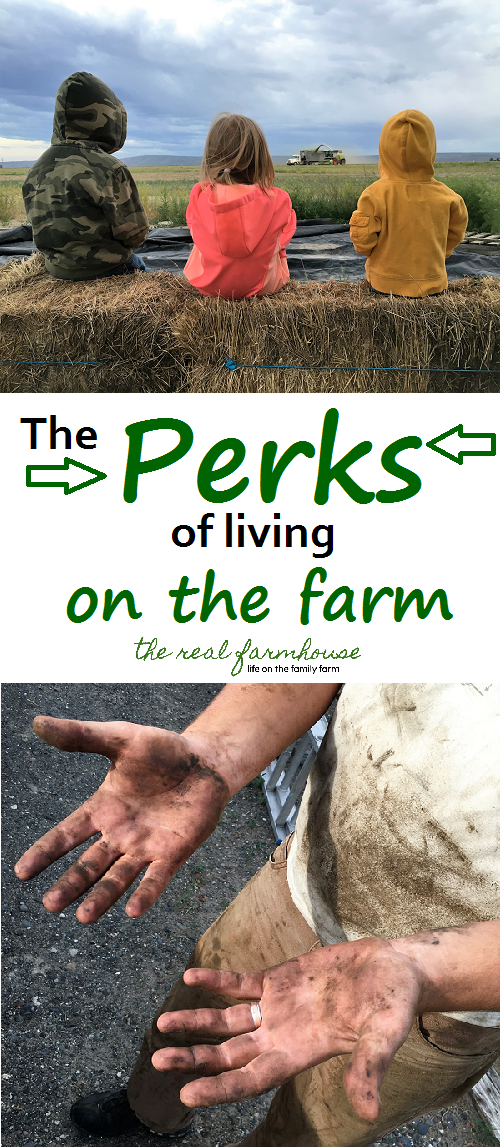 A few years ago, when we moved into our current home on the farm, I was very anxious to get our garden plot all set up and ready to plant. That is usually the first thing I think about each time we move, where oh where to put the garden.
We moved into the house in April so I didn't have much time to get everything prepped before I needed to start planting. My plan was to build raised boxes with railroad ties since we could get them for free from a neighbor down the road. So the process went like this …. I wish you could have seen it in person ….
Step 1- Clear out an area about 6′ x 6′ of all weeds and other things that had been there for years (30 minutes)
Step 2- Shovel and rake ground level and flat (15 minutes)
Step 3– Retrieve one railroad tie. Those things are heavy people! and longer then I am tall.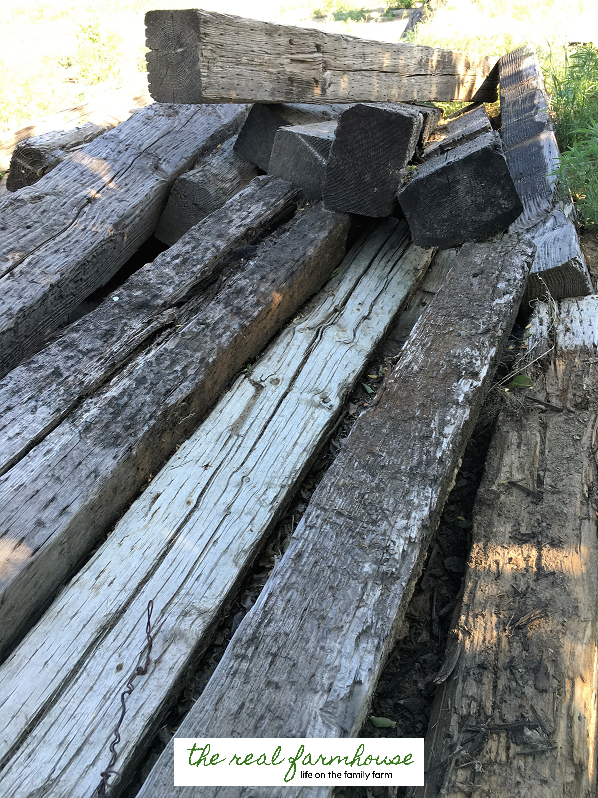 So to do that I had to squat down (high school weights class in action!) squeeze my fingers under one end of the railroad tie, mutter 1…2…3…, hoist one end up as high as I could (grunt) and push it straight up in the air, then tip it forward and let it fall. Of course our railroad tie pile was across the lawn from my new garden spot so keep going …. squat, squeeze, mutter, hoist, push, tip, and fall …. five times was my goal, then I rewarded myself with a walk to the house to take a few swallows of mtn dew, as if maybe that would help me instantly gather my strength for the next go around. About (1 hour) later I have all four railroad ties positioned in my garden spot.
Step 4- Bring wheelbarrows full of dirt and compost to fill the new box. Added bonus, my wheelbarrow had a broken wheel (which I guess makes it a "barrow") so I could only fill it half full with dirt or the "barrow" sat on the wheel and it wouldn't turn. Now before you feel too bad for me, know that Farmer took me to Lowe's after this project and bought me a four wheeler trailer for future projects yay! This particular time, Step 4 took about (45 minutes)
Step 5- Spread and rake out the dirt so it can be ready for planting. At this point I just wanted to lay down, but I. must. have. garden! So (15 minutes) later I have 1 measly garden box completed
Total time: 2.5 hours
[wp_ad_camp_2]
Originally I wanted 8 garden boxes …. so I sat down to rethink my plans.
I think for several days.
Then, one day, something magical happened. Farmer got off work early. Whaaaat!! Then Farmer hooked up the bucket to his tractor, and he scraped and leveled and smoothed my entire garden area. (1 hour) Then Farmer loaded several railroad ties on his bucket and took them to exactly where I wanted them. He jumped out of the tractor a few times to adjust them but that's about it. Meanwhile, I grabbed a lawn chair and my cold mtn dew and sat in the shade to admire the view.
Load, dump, load, dump (30 minutes). Then he drove down to the pond and scooped me some really nice dirt (30 minutes). He even pushed the dirt around a little with the bucket to level it out (30 minutes). I felt bad for watching so I followed behind with a rake to touch up (30 minutes and less-sore muscles).
Farmer's tally: 3 hours for the ENTIRE GARDEN!!
[wp_ad_camp_4]
And THAT, my friends, is a PERK of living on the farm. And since there are so many perks, I decided to make a list…. because we all love lists right??
You can use farm equipment to do your yard work.
Farming is an acceptable excuse for really bad tan lines. More affectionately known as "A farmer's tan"
Loads, and I mean literal truck loads of free produce during harvest season.
Dead corn stalks, miniature hay bales, old canning jars, and other common farming junk things happen to be very popular decorations these days.
Farming is also an acceptable excuse for being unrecognizably dirty in public.
Tractors are the perfect sled pullers in the snow.
Your cousin drove his car into a ditch? no problem! Grab the tractor.
Farmer's are required to be able to fix anything, or they get fired.
Need a character building job for your kid? There are always hand lines or siphon tubes that need changing.
If you need to know the 10 day forecast including humidity, wind speed, and exact amount of precipitation at any given time (day or night), ask a farmer.
Any tool you could ever need is "out in the shop…somewhere?".
Hay bales and hay stacks make excellent forts and battlefields.
If you ever need to move anything or anyone, you have a plethora of trailers to choose from.
It's easy to tell people which house is yours, just tell them which large piece of equipment is parked out front today.
A farmer's commute to work is generally less than 30 seconds …. on foot … out to the shop.
There is always plenty of "reality tv" for the kiddos.
I think I could probably go on forever about the awesome-ness's (is that a word? It is now!) of living on a farm, but I am sure you have better things to do for the next few hours. Like …. reading more of my blog! Here are a few more farming posts you might like:
So you married a Farmer … what to expect from the farm life.
How to raise farm animals when you don't even like them.
Anyone else have a "perk" to add??
Happy reading!
~Farmer's Wife