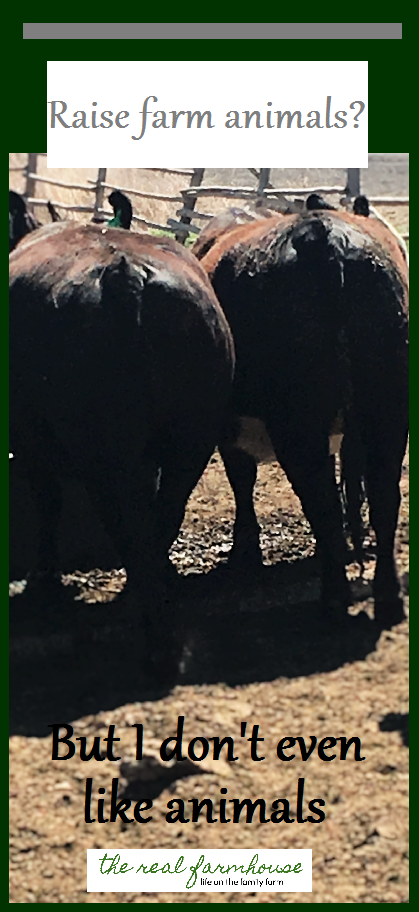 So tell me, am I the only one that feels this way? I live on a farm. I agree with the importance of animals. I know they provide meat, eggs, milk, etc, and they teach valuable lessons, not to mention it saves a bunch of money to raise your own, and on and on …. yes yes I know they are important! But …. I just don't like them. They are dirty and loud. They make messes that I have to clean up. And boy do they STINK! I am a little embarrassed to say that I don't like them, me being a farmer's wife and all. Sometimes I even WISH that I liked animals so that it would make having them a little bit easier and more enjoyable. But nothing helps …. I just don't like animals.
So what do you do when you feel it's important to raise animals, but you really just can't make yourself enjoy them? Well let me see if I can help out.
Rule #1 Don't put the animals next to your house.
If every time you pull into your driveway and walk in your front door, you see and smell dirty stinky animals, your not helping your resolve to try and like them more. Do yourself a favor and put them somewhere a little farther away so you can prepare yourself before you have to go take care of them.
Rule #2 If you have kids, make it their job to take care of them.
Kids need chores and that is something I feel STRONGLY about. So what's wrong with putting them in charge of the critters? They can take care of them on a daily basis so you only have to check on them every once in awhile to make sure everything is being done correctly. Win, win! If you don't have kids, I bet you want some now right??
Rule #3 Spend a little extra time, energy, and maybe money before you get the animals, to make their home WORK for you.
And by "work for you" I mean literally. Let's take chickens for example. You can create a space for them that takes care of all their basic needs so you hardly have to touch or smell them at all. The larger the area is for them to roam, the less you have to clean up after them. If you add a large amount of bedding it makes it even cleaner and less smelly. You can buy or make feeders and watering cans that you only have to fill up every couple of days. You can even get automatic doors so that you never have to go out late at night in your pajamas to close the chickens up because you forgot to earlier. Top it off with a chicken swing, a dust bath, and some things to stand on and they will be less likely to peck each other too! There are tons of different things like this for all different animals that will cut your interaction time WAY DOWN.
And Rule #4 Always get more then one of each kind of animal
Since your reading this post, I am assuming your not very fond of snuggling, petting, talking to, or any other kind of animal interaction. Even if all their basic needs are met, most animals will do better with a little bit of company. Get them a buddy so they won't care if the only time they see you is every couple of days for a 10 second check up.
One of these days maybe I will learn to like animals. But if that never happens, I still want to be able to raise them without dreading every second of it. Maybe you have some tips you can share with me too. Anyone else out there feel the same way I do??
~Farmer's Wife