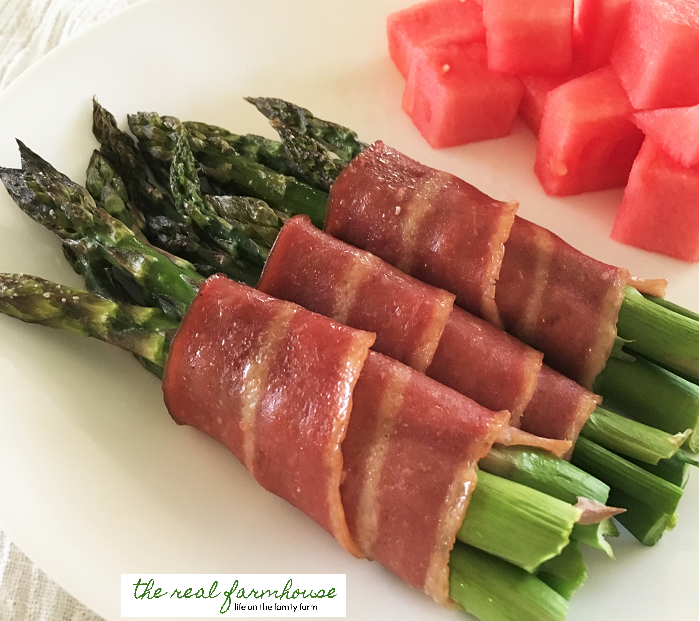 This recipe is far and away my families FAVORITE way to eat asparagus. In the spring, when asparagus is on and we have boxes of it to eat, I make this 2-3 times  a week. The asparagus is juicy and delicious, and the turkey bacon adds so much flavor! Try it out right now during asparagus season, and your family will beg for more of this finger lickin good, fresh from the garden appetizer.
What you need:
cookie sheet
olive oil
garlic salt
fresh asparagus
turkey bacon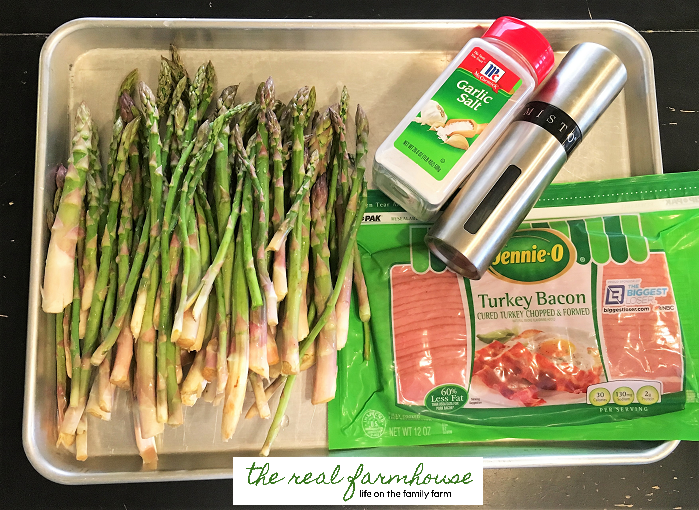 Wash your asparagus and gather other ingredients. Preheat oven to 400 degrees F and place the rack near the top.
Spray your cookie sheet with olive oil. You can drizzle it all over the pan but I absolutely LOVE my MISTO SPRAYER because you don't have to use as much oil and it sprays evenly over the pot or pan.
Lay one piece of turkey bacon out on your table
Grab 1-8 asparagus spears (however much you prefer, I do 3 if they are fat ones and 6 or 7 if they are skinny) break off the hard white ends, and place them in a bundle on your bacon.
Roll the bundle of asparagus up in your bacon on a diagonal, so the bacon twists from the bottom up to the bottom of the asparagus tips.
Line them all up on the cookie sheet. You can have them touching if you want but the bacon will stick together when you cook it.
Spray the tips of the asparagus with olive oil and then sprinkle garlic salt over them.
Stick it in the oven and bake it for 15-20 minutes. Check it to see if the asparagus is cooked to your liking or leave it in longer for a softer asparagus. We like the tips to be kinda crispy around here!
Enjoy your fresh spring appetizer made with tender new asparagus spears!
~Farmer's Wife
*this post contains affiliate links