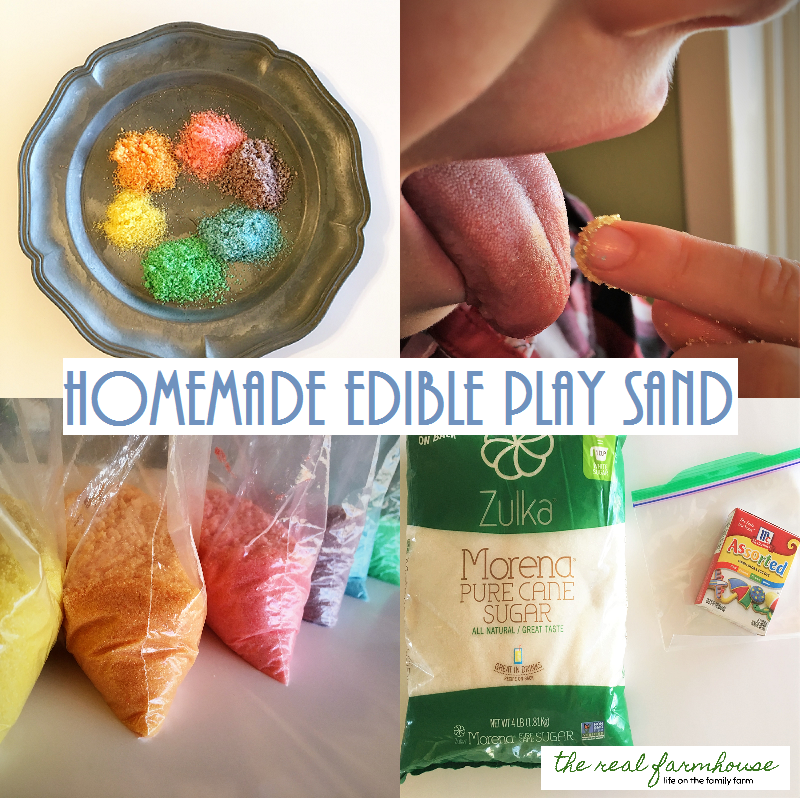 It's Tinker Tuesday at the farmhouse and today we are playing with incredibly AWESOME homemade edible sand. Seriously guys, check out these colors! They turned out so cool that I spent half an hour taking pictures of the bright sand before I could hand it all over to the kids!
I had been wanting to do this project for Tinker Tuesday for quite awhile now but I kept putting it off because I was afraid it would take a lot of prep time. It turns out I was wrong. It only took me about 20 minutes to get it all mixed up and then I let it dry over night. I fought off the kids for awhile in the morning taking pictures and then finally let them loose on my beautiful … untainted … sand … sigh …
I was happily surprised to see that it was almost as pretty when the colors were mixed together.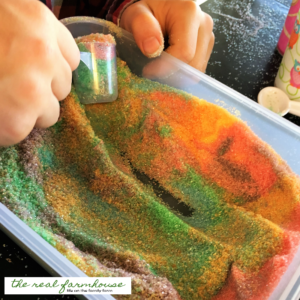 Little man (6) scooped and mixed and buried things in his colorful sand for about 45 minutes. Boss (2) poured and poured for 20 minutes, then wanted me to wash his hands, then came back 10 minutes later and played for another 10 minutes bringing his grand total to 30 minutes of tinker time. And Sweetie Pie (4) who LOVES pretty colors, scooped, stirred, spilled, and cleaned her colorful sand for a whopping hour and a half! Then she made me save her mixed sand in a ziploc bag for later. She even washed all the spoons, scoops, and tupperware for me after we were done.
Now I would call this a successful tinkering!
And I bet your just itching to have a giant colorful sand pile in your kitchen too right?!?!
Here's what ya need:
1 bag of pure cane sugar
food coloring
ziploc bags (I used sandwich size bags)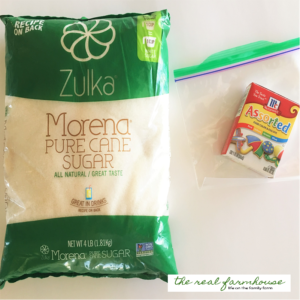 Pour some pure cane sugar into your bags.
I wanted six colors and I was making sand for three kids to play with. I used one 4 lb bag of pure cane sugar and it turned out just perfect. If I had made more, I am certain my kids would have used it all but this was plenty of sand for them to make a big giant beautiful mess with and not too much to make me crazy! So I filled 6 sandwich baggies not quite half way with pure cane sugar and set them all in a line on my table for the next step.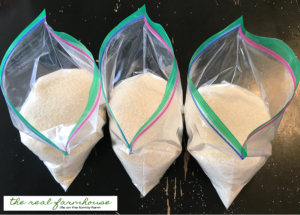 2. Add food coloring
Decide what colors you want to do before jumping right in. I chose yellow, orange, red, purple, blue, and green. Then grab a bag and get to coloring! I started with 10 drops but ended up adding another 5 to most of them. You can make it as bright as you want by adding more food coloring.
3. Mix it up!
Make sure to close the bag tight! leave a little air in there to make the mixing easier. Squeeze, squish, shake, or any other S word you prefer to get the job done just don't squeeze or shake too vigorously! One of my bags popped open and within half a second my kitchen floor was covered in orange sand. Now that I think about it, I should have just left it there for the kids to go crazy with! Ah there is always next time right? ….. Maybe outside ….
4. Let it dry
Thats it! Then you just open the bags up and let them dry a bit. I left mine overnight and we didn't have any stained fingers.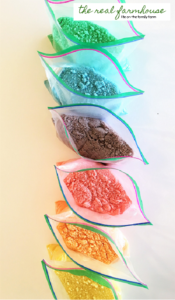 5. Play, dang it!
You could set up your play space anywhere you want really! The kitchen table, outside on the cement, on the trampoline, even in the bath tub (hey it would make for easy clean up right?!) We did it on the kitchen table. I put my sand in little cups so they could pour or scoop, and I gave them a whole bunch of containers, scoopers, spoons, and anything else I could find laying around in the kitchen. Then I took a deep breath …………………….. and called the kids!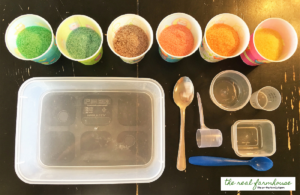 Bonus! It's sugar! so let the kids taste their art!
and finally a warning, it was totally worth it but it was one of our messier Tinker Tuesdays. Sand was everywhere when we finally got done and it got a little sticky on the floor where I spilled a bunch and it got walked on. So I suppose mopping the floor should be the last instruction.
All in all, this turned out way cool! Life on this family farm is full of messes, usually involving dirt, so it was kinda nice to have a beautiful mess of delicious colorful sand for a change!
---
And now for the big moment!……. the random farm fact of the day is …..
Some regions in Africa, where large amounts of sugar cane are grown, they actually use the dry fibrous material left over (known as bagasse) to create electricity! Hmmm I wonder if it smells like sugar cookies when they burn it?? Cool!
---
Now get out of here and go make a beautiful mess with your kids! Then come back and let me know how it goes!
~Farmer's Wife