I will warn you up front that this won't be a very long post. That is only because getting free seed catalogs is so easy.
Seed companies are actually looking for people to send their catalogs too. The more people that get their catalogs, the more people buy their seeds.
But you don't just want ONE seed catalog …. nooo …. you want lots and lots of seed catalogs, so you can lay them out nice and look through them all day long while it snows outside. You want to be able to see every single kind of tomato on the planet before you pick which ones get to grow in your garden. You want to dream up the ultimate garden, and you can only do that with every option laid out in front of you. Am I right, or am I right?
Yes, it's true. The more seed catalogs, the better!

Well, lucky for all of us, it's SUPER easy to get free catalogs. All you have to do is go to a seed company website and click on "request a catalog". Then it will ask for your name and address so that they can send it to you. You don't have to enter in any credit card information because you aren't buying anything. Hit submit and your done! A few weeks later a beautiful new colorful catalog will arrive in the mail.
Now is the absolute perfect time to be signing up for these. You want to receive your catalogs in January so that you can order your seeds in time for early spring planting. For me (zone 6) that means the first of March.
For the sake of convenience, here is a big old list of seed companies that offer free catalogs from their website. If it didn't say on the home page "request a catalog", then I linked it to the free catalog page.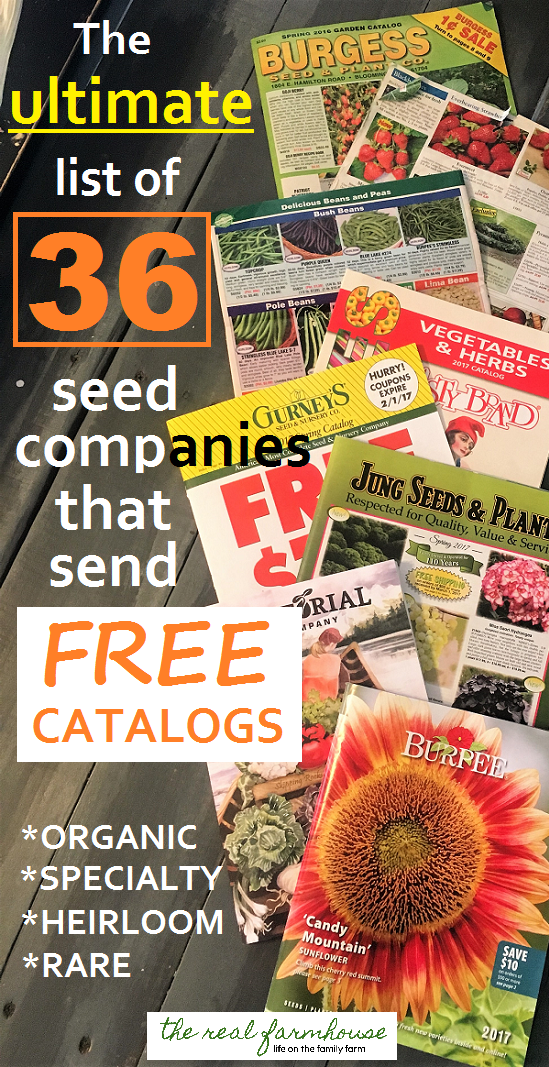 Pepper Joe's *Home of the world's hottest pepper seeds
Applewood Seed Co *mostly flowers
Prairie Nursery *mostly grasses, shrubs, vines
Now you might be wondering why you want a catalog when you can just look on the website. A website is great for a lot of things, but personally I find it infinitely easier to flip through a catalog that is laid out in order, with pictures. You can circle the ones you like. You can flip through a hundred times. You don't lose things like you sometimes do on a website. You can tear out pictures and design your dream garden. Your kids can look through your seed catalogs and circle the ones they like. …..
Maybe I am the only one that feels this way, and that's okay. But I much prefer a paper copy then staring at a computer screen.
So get yourself signed up for a bunch of seed catalogs TODAY so you are ready for spring planting in a few months. Yay!
Now one last thing… If you are a serious tomato freak, you need to know this. Tomatofest.com has the largest and most impressive selection of organic and heirloom tomatoes I have ever seen. They have over 600 beautiful, unique, and rare varieties of all different colors, sizes, shapes, and flavors. In fact, this year I am trying out a blue tomato for the first time. Yes, blue! You can't believe some of the stuff they have until you see it with your own eyes. CLICK HERE to visit the website for this incredible organic and heirloom tomato seed supplier that is run by a couple who harvest their own seeds. If you aren't buying your tomato seeds through these guys, you are truly missing out on some great tomatoes.
Be sure to check out my list of what things in my garden save me the most money and what save me the least before you make your final decisions on what to plant this year.
~Farmer's Wife